Yasuní
Yasuní is a thriving tropical rainforest in Ecuador's northeastern region, reputed to be the world's most biologically diverse place on the planet.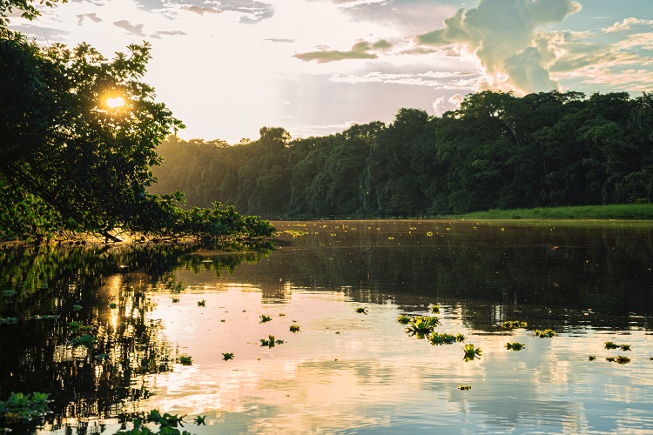 About
Yasuní
Considered part of the 'core Amazon,' Yasuní is located at the crossroads of the Andes, Amazon, and the equator, affording its unique biodiversity. Yasuní is an area of land comprised of Yasuní National Park, Waorani Ethnic Reserve, and an encompassing "Untouchable Zone," designated to protect Indigenous peoples and wildlife from environmental and cultural exploitation. Many Indigenous tribes, over 4,000 plant species, and 173 mammals call Yasuní home.
Yasuní also sits on top of nearly a billion barrels of crude oil.
Who Resides in Yasuní?
The Waorani (Huaroani) people, who reside throughout Yasuní, maintained a hunter-gatherer lifestyle until 50 years ago, when missionaries, and oil producers began taking advantage of their land and exploiting their way of life. Since then, the Waorani have relinquished their nomadic ways, and settled down into smaller communities. Two of the tribes, the Tagaeri and Taromenane, have chosen to live in voluntary isolation from the outside world. They are some of the only isolated peoples in the world today.
The Biodiversity of Yasuní
There is no place as diverse as Yasuní on the planet and it needs to be protected.
Yasuní is also one of the only places in the world where plant, mammal, amphibian, and bird species all reach their maximum biodiversity. This area did not freeze over during the last ice age, also lending it to being an exponentially prolific environment. It has evolved into a refuge for wildlife seeking more abundant habitats from deforestation and disasters in surrounding areas. To give you an example of how precious this land is:
Yasuní

is home to over 130

globally threatened species

including the giant otter, white-bellied spider monkey, golden-mantled tamarin, giant armadillo, and jaguar. Extinction risks are high for all threatened species.
655 different tree species have been identified within 1 hectare of land.
For reptile biodiversity, it is the 2nd richest area in the world.
More insect species are found in

Yasuní

than any other forest.
There are more frog and toad species within

Yasuní

than all of North America combined.
Ecuador has the 9th highest mammal biodiversity, and over half reside in

Yasuní

.
Many species are endemic to

Yasuní

.
It is home to the 5th largest bat reserve.
Fortunately, there have been attempts to preserve the precious ecosystem and the cultures of the Indigenous peoples that live there and have inhabited the land for centuries, perhaps thousands of years. But there is a lot at stake.
A Brief
Yasuní

History

Yasuni's rich oil lands have propelled this national rainforest into the global spotlight, including encroaching petroleum extraction companies that are biding for oil block concessions on preserved Yasuni lands, and those valuing to keep the "oil in the soil" and leave the oil left untouched. Efforts to protect Yasuni from potentially toxic extraction projects are underway, with the innovative Yasuni-ITT initiative at the forefront of the crusade:

In 1979, Yasuni National Park was established. Under IUCN regulations, it is a category II.

In 1989, UNESCO declared Yasuni a World Biosphere Reserve.

Precautionary measures were issued in May 2006 by the Inter-American Commission on Human Rights to protect the Tagaeri and Taromenane territories in northeastern Ecuador.

In the summer of 2007, Ecuadorian President Rafael Correa proposed the groundbreaking Yasuni-ITT proposal, which called for international monetary compensation in exchange for keeping Yasuni's oil reserves underground and untouched. With this proposal, the international community would have provided half the reported $7.2 billion value (of Ecuador's potential oil revenue) if petroleum extraction projects were granted. However, President Rafael Correa scrapped the proposal in 2013.