Kapawi Ecolodge
Kapawi Ecolodge & Reserve is an award-winning ecolodge nestled deep within the Amazon, owned and operated by Achuar indigenous peoples. Visit Kapawi Ecolodge on our Pachamama Journeys.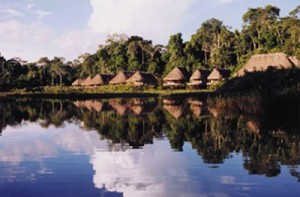 Kapawi Ecolodge: A Novel Way to Travel
The Achuar are a group of indigenous peoples of the Amazon Basin, currently numbering around 6,000. Their ancestral lands - nearly 2 million acres in all - straddle the modern borders of Ecuador and Peru, a remote area that has allowed them to preserve their way of life with little outside influence or colonization.
Travel can help us step outside the stress of our daily lives and renew our connection with the environment, other people, and ourselves. Yet, too often, the bliss travel brings us is fleeting.
If you want to reinvent your travel, we invite you to journey deep into Ecuador's Amazon rainforest to the Kapawi Ecolodge and Reserve, a thriving refuge run by the indigenous Achuar people as part of a vision for preserving their ancestral lands and way of life.
For over 15 years, Kapawi has served as a physical and spiritual retreat for adventurous travelers, soul seekers, and eco-enthusiasts. It gracefully blends indigenous culture and modern comforts to welcome all guests with peerless hospitality, and creates an environment for intercultural exchange.
Among myriad tropical plants, birds, and other life, you can experience yourself as you are meant to be: relaxed, engaged, and viscerally free. You can find a bliss you can take home with you.
Kapawi Ecolodge: An Extraordinary Home Away from Home in the Rainforest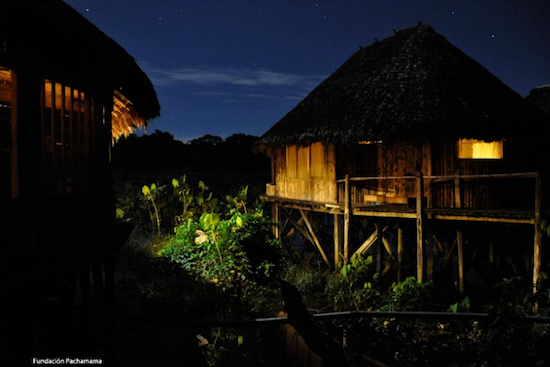 The Kapawi Ecolodge is completely owned and operated by the Achuar people. Considered one of the most intact indigenous cultures on Earth, Kapawi Ecolodge was born in 1993 as a revolutionary way to sustain their communities and preserve their ancestral lands and culture in the face of threats from petroleum development.
Located near the Ecuador-Peru border in the heart of Ecuador's most pristine rainforest, Kapawi is accessible only by plane or boat – although by boat would take weeks of travel from Quito. 20 cabanas, each built of wood and palm leaves in a style similar to traditional Achuar homes, are arrayed atop a lagoon formed by two effluents of the Amazon River.
Cabanas are solar powered, completely screened in, and equipped with mosquito netting for beds, a hammock or deck chair to lounge in over the lagoon, a balcony, and a private bath. And if you're feeling more social, there's a main lounge to mingle.
Kapawi Ecolodge is the ultimate home for travelers seeking the highest-quality experience of another culture, while reveling in a beautiful, tropical environment.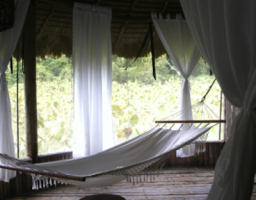 Experience Kapawi Ecolodge on a Pachamama Journey
The Pachamama Alliance offers culturally immersive trips to Ecuador and Achuar territory throughout the year, many of which include a stay at Kapawi Ecolodge.
Pachamama Journeys were created at the invitation of the Achuar, and through these strong ties with the indigenous community, they are able to offer a truly unique and engaging experience. Activities include:
Swim in the surrounding rivers or grab a raft and float down.
Kayak or canoe on the river and get a closer look at life in the rainforest, including the mystical pink dolphins.
Fish for catfish, or just let the locals show you how it's done.
Hike through some of Ecuador's last remaining primary forest, or take a hike after dark to really experience nature's hidden creatures.
Explore surrounding wildlife.

Catch a glimpse of some of hundreds of bird species in their natural habitat. Did you know 1 in 5 birds calls the Amazon home?
Visit an Achuar community

and connect with one of the most intact indigenous cultures in the world. Have your face traditionally painted, share a meal with local families, and learn about ancient ways of living interdependently with our planet home.
Journey with Us to Kapawi Ecolodge
Visit the award-winning Kapawi Ecolodge on one of our Pachamama Journeys to Ecuador's Amazon rainforest. Visit the page for journey details, testimonials, and trip dates.