Community-Based Tourism
Engage in community-based tourism and support Indigenous communities while experiencing their culture and way of being.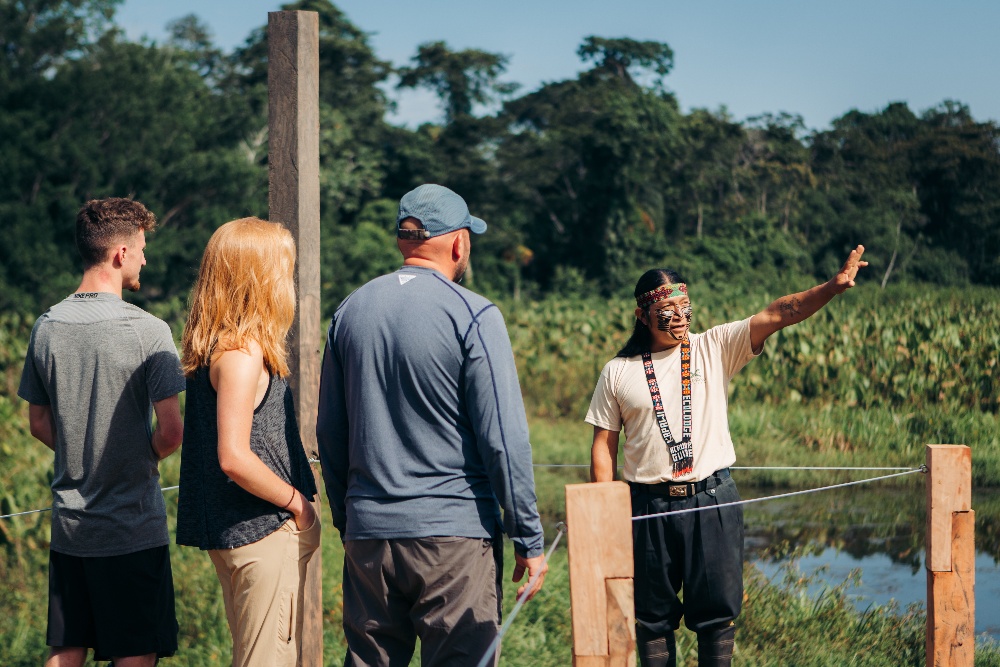 What is Community-Based Tourism?
Community-based tourism is travel to local Indigenous communities that have invited people from elsewhere to experience their customs, food, lifestyle, and set of beliefs.
These communities manage both the tourism experience and the benefits of tourism, thereby strengthening their self-governance, economic alternatives, and traditional ways of life in the process.
Key Characteristics of Community-Based Tourism
Community-based tourism is defined by three characteristics: Indigenous leadership, sustainability, and cultural immersion.
Indigenous Leadership
Community-based tourism is managed by local Indigenous communities. This means the community assumes collective responsibility for all aspects of your stay, including accommodations, internal travel, food, and cultural activities.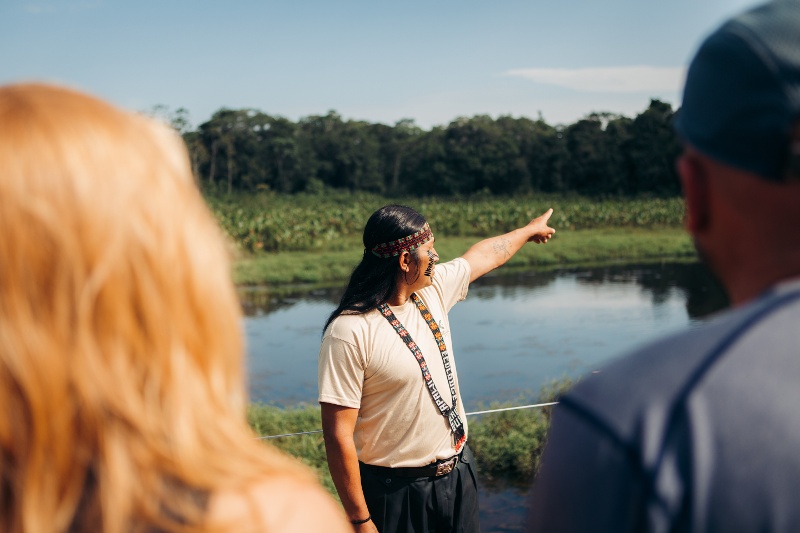 Simon Santi, a local guide, giving travelers a tour of Kapawi Ecolodge and the surrounding rainforest.
Communities reap the benefits from tourism revenue, making community-based tourism a sustainable alternative to many travel organizations, which often do not work in solidarity with the communities and local environment.
Through community-based travel, collective wellbeing is valued over corporate or individual profit.
Sustainability
Sustainable tourism—particularly in places where biodiversity and cultural heritage are key to the traveler's experience—is a key aspect of community-based tourism and sustainable development.
Sustainable tourism generates economic growth and jobs, ensuring that the economic benefits of tourism stay within the local community. At the same time, it promotes responsible consumption and production practices as well as the conservation of natural resources.
Communities will typically only accommodate as many people as they are able, keeping in mind long-term sustainability, and avoiding unnecessary strain on their own resources. Meals generally draw on local agriculture, and communities carefully consider how much tourism their housing and energy resources can effectively support.
Cultural Immersion
Travelers are able to experience the diversity and customs of another culture, and to interact directly with the community. Unique lodging, cuisine, and activities form a foundation for increased knowledge and awareness of another culture, different set of beliefs, and social norms.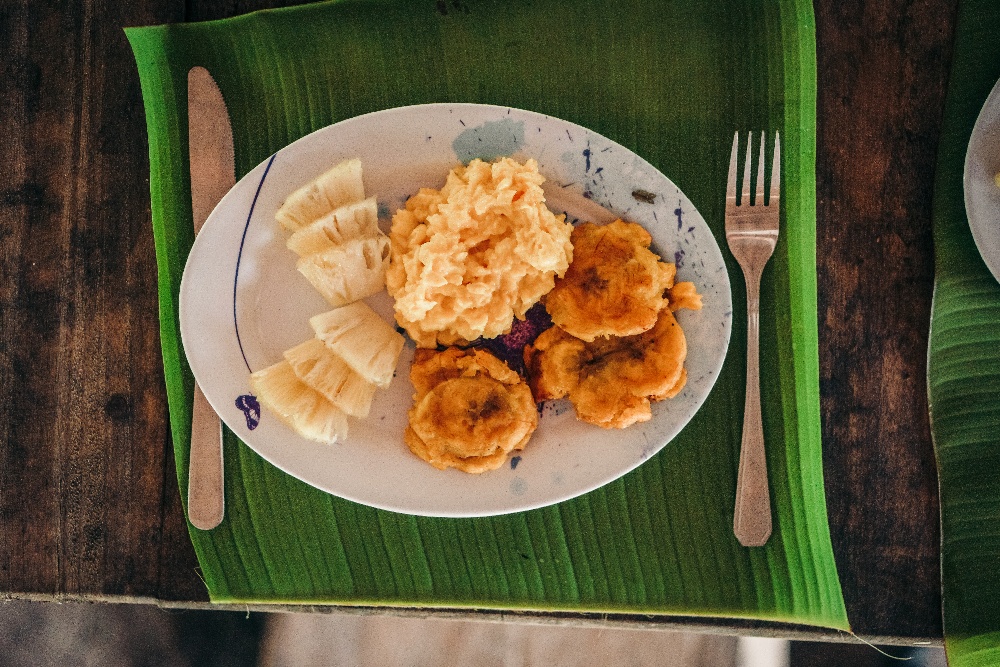 Meal made by Achuar people using local ingredients at Kapawi Ecolodge.
Why Should I Choose Community-Based Tourism?
By choosing community-based tourism, the benefits of tourism go directly to the local communities. At the same time, travelers have the opportunity to authentically and respectfully experience another place and culture. Other benefits include:
Hands-on experience with another culture: see, hear, touch, taste, and do things you might never have done otherwise.
Deeper connection with people and place: interact with and learn directly from the communities whose land you're a guest on.
Empathy and awareness of other cultures: gain a new perspective on culture—both your own and others'—and how it shapes our lives.
Greater control over where your money is going: ensure your tourism dollars support local communities in beneficial and sustainable ways.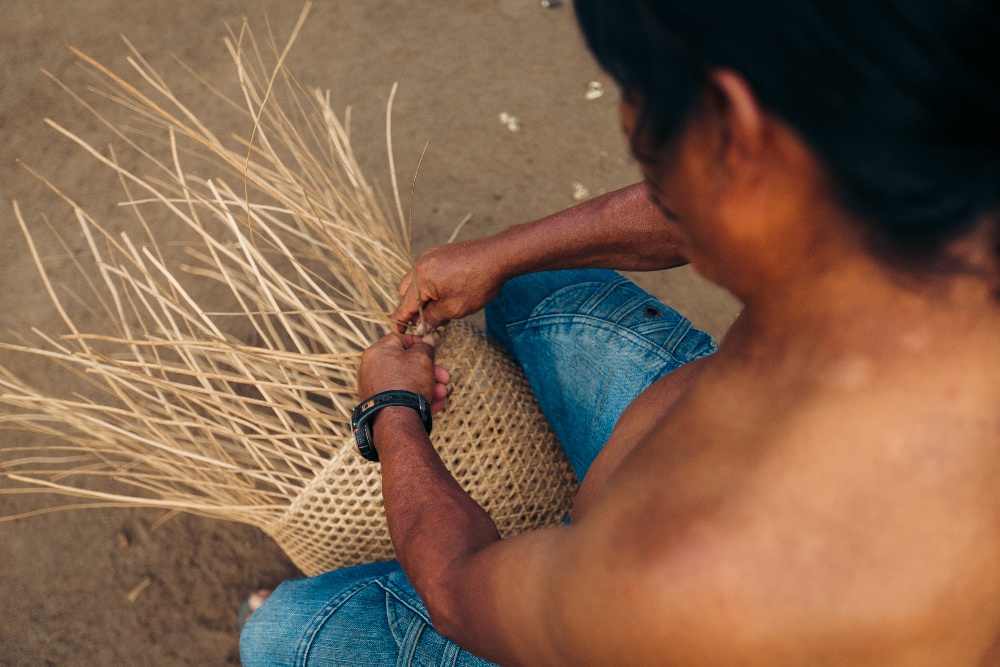 Man weaving a basket using traditional methods and materials.
Experience Community-Based Tourism with Pachamama Journeys
Pachamama Journeys to Ecuador incorporate community-based tourism as a key component of these culturally immersive trips.
Many of these journeys include a stay at Kapawi Ecolodge, which is owned and operated by local Achuar people. Kapawi is located on the Achuar's ancestral lands in the Amazon, and all revenue generated goes to the local communities.
Participating in a Pachamama Journey presents travelers with a unique opportunity to learn from local Achuar communities about their culture and way of life deep in the rainforest.
At the same time, Journey participants are able to support the Achuar's efforts to pursue economic alternatives to deforestation and extractivism. In turn, the Achuar are able to preserve their lands, culture, and way of life.