Testimonials
Participants say it best.
"This trip was not only a trip, it was a human adventure, a jungle discovery, a nature bath, an english and spanish class, a group coaching session, a wisdom inspiration, and a way to protect nature. I just loved it, one of the best things of my life."
"Our eco-journey with the Pachamama Alliance exceeded all our expectations. The leadership is great, everything is very well organized, so that you can fully relax and lean into the experience. We very much enjoyed the small group size as it allows for an intimate and deep exchange with the Indigenous people. It was a beautiful and deeply transformative journey, hard to capture in words. "
"My journey into the rainforest with Pachamama surpassed expectations! Far beyond the typical eco-tourism experience, the trip provided opportunities to be with and learn from Indigenous peoples in a natural manner. Both the Pachamama and local guides were highly skilled and cared well for the group. The trip taught me much about the rainforest and its peoples, but also a great deal about myself. "
"First off I'll say that Pachamama Alliance is very thoughtful in the preparation of this journey. They anticipate your needs, so you always feel fully supported in everything; bathroom comfort, food restrictions, physical and emotional needs. The complete unplug that you experience on this journey gives you tremendous clarity. And then there's one more element....the difference you can make by taking time to bare witness to the lives of the Indigenous tribes so you can truly hear and understand them. Just sign up. You won't be disappointed and you're in loving hands with Pachamama Alliance."
"The Rainforest trip was THE most liberating experience I have ever had in my entire life. I'm free. This journey changed my life completely."
"This is the journey of a lifetime, one I will repeat. I have been on many learning journeys throughout my life. I feel as if they were all leading to this one. It was awesome, in the highest sense of that word. I was awed, humbled, inspired and embraced by the experience."
"I can't think of an experience that would parallel my trip with the Pachamama Alliance. It is simultaneously entertaining, relaxing, and transformational. Furthermore, the trip is structured and led in such a way that I never had to think about what I was going to do next, which really allowed me to be in the present with those around me."
"I have been to 78 countries and visited shamans and Indigenous tribes before. This was the best trip I have ever been on! The participants were open, well prepared, and well traveled. The guide was the most personal and involved guide I have experienced. The scenery was magnificent. The meals were great. The spiritual insights will evolve with me slowly over time. The Indigenous were generally un-Westernized. The purpose for the trip, of saving the rainforest and Indigenous ways of life, was an overarching meaning for our experiences. I can't say enough about how wonderful this trip was!"
"This journey is way more than a trip to the Amazon. It is a journey into a deeper relationship with yourself and our home, Pachamama. Be prepared to be surprised, challenged, moved to tears, tenderly comforted and changed forever."
"The journey was absolutely amazing – transformative in a cellular sense for which I am profoundly grateful. My sense of connection, and interconnection with our Earth, has been multiplied, deepened, expanded."
"My journey into the heart of the rainforest with Pachamama was one of the most potent experiences of my life. I had the feeling of being guided back in time as I went deeper into my own true self. I returned so alive and much more awakened to my life's greater purpose."
"This journey changed my life. Being in the rainforest with the Achuar was transformative on many levels. Coming from the chaotic and confusing world as we know it, the rainforest provided the quiet, contemplative space that allowed me to listen to my heart and come to know what had always been there – such a gift."
"A trip with the Pachamama Alliance to Ecuador is an absolutely extraordinary experience. It gave me a unique opportunity to deeply engage in who I am as a leader and a citizen of the world. It was one of the most transformational and strengthening journeys of my life."
"This journey will change your life—profoundly!"
"This journey for me was about rediscovering purpose, passion, possibility and power in everyday life. I am not only re-inspired and recommitted to making a difference, I am also profoundly aware of how we are all connected in ways we cannot imagine."
"The trip was joyful, inspiring and has given me the gift of BEING in connection with everything, not just knowing it intellectually."
"This journey is a work of art! It has everything — beauty, mystery, education and fun.
Get In Touch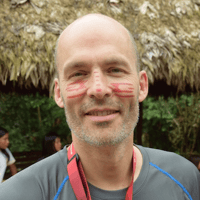 Steve Torneten has over 5 years of experience leading Journeys to the rainforest.
He will guide you through the process of deciding which Journey is right for you, booking your experience, and preparing you for the trip of a lifetime.
Schedule a time with Steve to ask questions and learn more.
SCHEDULE NOW
Dates & Itineraries
Our itineraries are thoughtfully organized and skillfully curated, making your time in Ecuador as seamless as possible and freeing you to focus fully on the experience.
EXPLORE DATES & ITINERARIES