About Journeys
By engaging you as a whole person—heart, mind, body, and soul—Pachamama Journeys create an unforgettable experience that will inspire you for a lifetime.
Unparalleled Experience, Relationships and Trust
Journeys take place on the solid platform of relationships developed over many years by the Pachamama Alliance. We continue to be the primary partner to the Indigenous groups in the region working toward the permanent protection of their lands and cultures. This trust allows for the most intimate access, as we are considered friends and allies, not tourists. You will learn firsthand about the challenges and visions of our Indigenous partners, and how you can join them in ensuring this global treasure remains intact.

An Immersion With Our Indigenous Partners
A Pachamama Journey offers the rare privilege to have a profound immersion with intact Indigenous people. You will be invited into their ancestral culture, providing direct experience to learn from an uninterrupted lineage of wisdom amongst the vibrant forest. This remote environment becomes curiously familiar as it awakens an ancient memory, stored in our very DNA, of a natural and harmonious way of living and being.
You will be welcomed at Indigenous-owned lodges and villages that offer the unique opportunity to engage in intimate conversations and activities such as interpretive rainforest hikes, river trips in canoes and kayaks, cultural practices and traditions, and shamanic ceremonies.

The Majestic Andean Mountain Highlands
At the beginning and the end of the Rainforest Journey, you will spend some time in the Andean highlands. Deeper immersion experiences with the Andean cultures, particularly near the revered Imbabura volcano in northern Ecuador, can be arranged on request either before or after the Journey.

Customized Itineraries
Each Journey follows a customized itinerary and attracts a diversity of international and multi-generational participants who form an intimate community over the course of the experience. Participants often form strong bonds and relationships that continue long after the Journey—an unanticipated highlight for many travelers.

A Life-Changing Experience
After a Journey, participants describe a lasting feeling of tranquility and interconnectedness; newfound courage and clarity around their life, work and purpose; sustained commitments and actions that support their transformation; and a complete recalibration and attunement of body, mind and spirit.

Get In Touch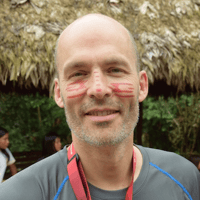 Steve Torneten has over 5 years of experience leading Journeys to the rainforest.
He will guide you through the process of deciding which Journey is right for you, booking your experience, and preparing you for the trip of a lifetime.
Schedule a time with Steve to ask questions and learn more.
SCHEDULE NOW
Dates & Itineraries
Our itineraries are thoughtfully organized and skillfully curated, making your time in Ecuador as seamless as possible and freeing you to focus fully on the experience.
EXPLORE DATES & ITINERARIES