Reflecting on 20 Years and Where We're Headed
20 years of work has given Pachamama Alliance the experience, connections and wisdom to skillfully focus on what is preventing humanity from building the thriving, just, sustainable world we all desire. Now entering its third decade, Pachamama Alliance reflects on 20 years of work and the future.
RAINFOREST ROOTS

THE FIRST DECADE
In the 1990s, the environmental movement in the U.S. had become much more mainstream and was becoming more focused on global issues, not only on the issues that directly impacted home soil. Environmentalists in the U.S. were growing more committed to protecting our shared planet Earth, for everyone. In response to this movement, companies started talking about "being green" and celebrities were publically speaking out on the key issues of the time including: ozone depletion, biodiversity, global warming, acid rain, population growth, and saving the Amazon rainforest.
A number of organizations had formed to halt the deforestation of the Amazon, yet rainforests continued to fall. It became apparent that success wouldn't come from solely focusing on protecting the environment in some remote place; the work had to go deeper and hit closer to home. Something more was needed.
In 1995, a group of people, including Pachamama Alliance Co-founders; John Perkins, Bill Twist, and Lynne Twist, traveled to the South-central Amazon rainforest of Ecuador at the invitation of Indigenous Achuar leaders.
The Achuar people sought to build alliances with outside groups that could help them stand more powerfully against the threat of oil development in their territory.
Several years earlier the Achuar had made a decision to organize their widely dispersed communities into a unified force to protect their lands and culture. From contact with their Indigenous neighbors to the north and to the south, the Achuar had learned of the devastation left in the wake of oil development in once pristine rainforest lands. The Achuar were aware that it was only a matter of time before oil development would come to their territory and—unless they built the strength to defend themselves—it could devastate their lands and culture.
And so, a warrior culture, the Achuar sought to build alliances with outside groups that could help them stand more powerfully against the challenges they were facing. They shared with this group of visitors the urgent threat of oil development, their vision for self-determination, and made a request for a partnership with allies from the North who would work with them, on the ground in Ecuador, to protect their lands and culture.
The Achuar also knew that, ultimately, the destruction of the world's rainforests is driven by a complex web of social and economic forces beyond their control that seem to be the result of modern industrial society's worldview—a view rich in technological insight and ignorant of the true value of our natural world. So the Achuar made clear they were looking for allies who also could "change the dream of the modern world"—shift the modern culture of consumption and accumulation to one that honors and sustains life.
This visiting group committed to a partnership with the Achuar, and, upon their return to the U.S., Bill Twist, Lynne Twist, and John Perkins co-founded Pachamama Alliance to carry out their commitment. A two-fold mission statement for the work of Pachamama Alliance grew out of the partnership of these committed individuals from the modern world and the Achuar:
To preserve the Earth's tropical rainforests by empowering the Indigenous people who are its natural custodians.
To contribute to the creation of a new global vision of equity and sustainability for all.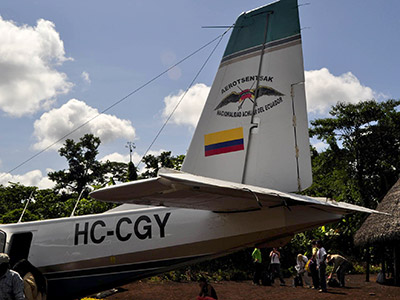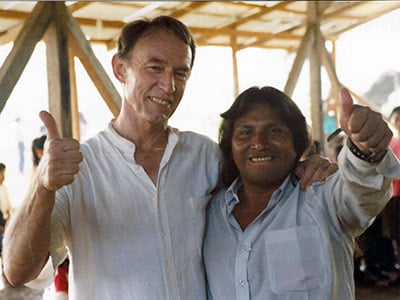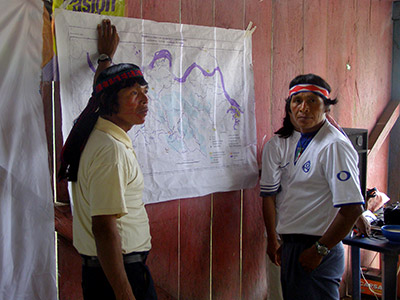 In order: A plane of Aerotsentak, the Achuar owned aviation service; Bill Twist and Achuar leader; Achuar leaders working on titling and mapping their land.
Early Work
In the beginning, Pachamama Alliance worked almost entirely on projects in Ecuador with the Achuar. The mandate to "change the dream of the modern world" was present and certainly not forgotten. However, for the first 3 or 4 years, the focus was on creating and assisting in the implementation of a master plan for Achuar territory that included:
Developing sustainable economic enterprises based on the renewable resources of the land, the primary expression being eco-tourism activities
Capturing and recording traditional Achuar knowledge and supporting the empowerment and revitalization of traditional Indigenous education and healing practices
Strengthening the Achuar's ability to defend their lands against outside encroachment, including demarcation, mapping, and legal work to secure clear title to land
Working with linguistic experts to develop and standardize the Achuar language as a written language so that their children could be educated in their own language
Developing a solar powered High Frequency (HF) radio network that covered over 50 of their widely dispersed communities
Establishing their own aviation service so that emergency needs of their communities could be met and the need for roads into their pristine territory resisted
Supporting initiatives that strengthen their governing federation and its leadership
To carry out and support the Achuar with these projects, within a year of getting started, Pachamama Alliance created a foundation in Ecuador, Fundación Pachamama. This foundation was staffed and managed by Ecuadorians and included a team of lawyers that was able to provide counsel to the Indigenous communities and also represent them in legal actions in Ecuadorian courts and in international tribunals.
The success of these activities attracted the interest of the neighboring Indigenous nationalities, the Shuar, Shiwiar, Kichwa, and Sápara. And it was becoming clear that efforts to protect one part of the south-central Amazon in Ecuador could not succeed unless all of it was protected. And so, gradually during those early years, Pachamama Alliance's work expanded to include those other nationalities in Ecuador and also expanded to include Achuar communities across the border in northern Peru.
Kapawi Ecolodge was the Achuar's first major project that Pachamama Alliance supported to foster self-determination and a source of income for the Achuar federation.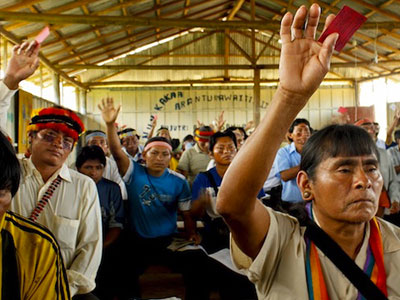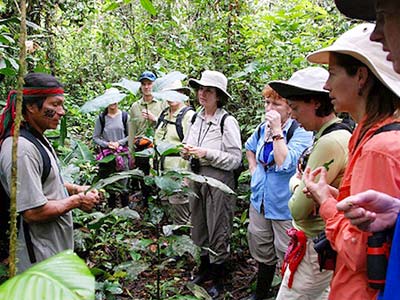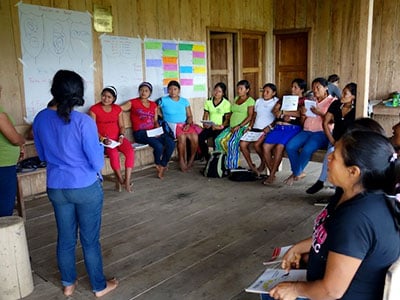 In order: An assembly of Achuar leaders; Pachamama Journeys group learning from Indigenous guide; Ikiama Nukuri Workshop in the Achuar community of Sharamentsa.
Over the next few years, Pachamama Alliance provided ongoing monthly financial and logistical support to Indigenous governing organizations in Ecuador, helping to ensure their voices were heard by the outside world. These organizations represent the interests of Indigenous communities working to protect the nearly 8 million acres of pristine rainforest threatened by governmental efforts to open it up for oil extraction.
Pachamama Alliance also funded and helped organize trainings, workshops, and special assemblies where Indigenous communities came together to learn of their individual and collective rights. This included funding legal actions at the community, national, and international level, such as support for the groundbreaking legal case at the Inter-American Court of Human Rights, where in 2012 the Sarayaku community won a ruling against the Ecuadorian State for unauthorized oil development a decade before that had violated their human rights.
In 2006, a volunteer with Pachamama Alliance started the Jungle Mamas program (now called Ikiama Nukuri) to work in collaboration with the Achuar communities in Ecuador to develop a community health model addressing birthing practices and maternal and newborn care that is culturally appropriate, empowering, and sustainable. In addition to supporting healthy birthing practices, the Ikiama Nukuri program has empowered women to take more active roles in community decision-making as committed and powerful voices for the defense of Indigenous territory and culture.
Pachamama Alliance continues to provide ongoing financial, logistical, legal, and technical support to 8 Indigenous governing organizations in Ecuador and to fund events where Indigenous people can develop a common vision and strategies for the protection of their territories.
AWAKENING THE DREAMER

THE SECOND DECADE
As Pachamama Alliance's work on the ground in the Amazon continued in partnership with the Achuar and neighboring groups, the lessons learned from dealing with the seemingly overwhelming complexities of tropical rainforest protection and Indigenous culture preservation began to sink in and insights were beginning to appear into what might be driving humanity's assault on the natural world. However, it still was far from clear how to respond to the Achuar's request to "change the dream of the modern world."
A quotation from writer/philosopher, Ken Wilber, particularly affected us at the Pachamama Alliance:
"Because you see, the alarming fact is that any realization of depth carries a terrible burden: those who are allowed to see are simultaneously saddled with the obligation to communicate that vision in no uncertain terms: that is the bargain. You were allowed to see the truth under the agreement that you would communicate it to others (that is the ultimate meaning of the bodhisattva vow). And therefore, if you have seen, you simply must speak out. Speak out with compassion, or speak out with angry wisdom, or speak out with skillful means, but speak out you must."
-Ken Wilber
The Birth of the Symposium
In late 2003, even though the Pachamama Alliance team did not have a detailed plan of our own, and clearly no roadmap to follow as to how to change the dream, it had become obvious that we just needed to jump in and get started. So for the next year and a half the Pachamama Alliance team met with a variety of experts in many fields to explore what sort of programs or trainings could be created to wake people up to the destructive ways of modern society and inspire people to get to work for a sustainable and just future for all.
At that point, people who were working for the environment and people who were working for social justice tended to be in very separate camps; it seemed as though you could be for one, and that would be enough. But it became clear to the Pachamama Alliance team that not only were the issues of environmental degradation and social justice related, they were actually different aspects of one larger crisis. And that spiritual fulfillment, a sense of true meaning and fulfillment, was a third intrinsic component.
And so the Awakening the Dreamer, Changing the Dream Symposium was born. The Symposium was created with the purpose of: "Bringing forth an environmentally sustainable, spiritually fulfilling, socially just human presence on this planet."
In March of 2005, the Awakening the Dreamer, Changing the Dream Symposium was launched in San Francisco in a day-long program to a group of about 150 people.
At the end of the program, about half of the attendees signed up to be trained to lead the Symposium, so the team went to work developing a Facilitator Training Program, first delivered in a 3-weekend form in 2005. Both the Symposium and the Facilitator Training evolved to be shorter programs. By 2008, the Symposium had been turned into a video-based program. With an hour and a half of video, Facilitators were freed from having to present all the material in the now 4-hour course. Along with the videos, participants had opportunities to connect with each other in powerful interactive exercises.
The Awakening the Dreamer Symposium was created to respond to the Achuar's request to "change the dream of the modern world" in order to protect the Amazon rainforest, and all life on Earth.
The Global Expansion of Awakening the Dreamer
Over the next few years, the new video version of Awakening the Dreamer, Changing the Dream launched a rapid expansion of Pachamama Alliance's work on a global scale. Awakening the Dreamer seemed to touch a vein of deep desire for an educational experience that woke people up to the challenges of our time, yet left them with a new sense of hope and possibility for the future. The Symposium experience was designed to leave people in a state of "blessed unrest"—deeply aware of the pain of the future humanity is headed towards and fiercely committed to bridge the gap between that future and the more beautiful future our hearts know is possible.
Many participants chose to express themselves by becoming more involved with Pachamama Alliance and the Awakening the Dreamer program by leading Symposiums in their communities. Awakening the Dreamer began to be offered in Europe, South America, and eventually in China, Africa, and Japan. This international involvement prompted a new version of the Symposium, which provided a more global perspective. As the movement grew, organizations became interested in offering it to their constituencies, and the global "lifestyles" company Gaiam, Inc. partnered with Pachamama Alliance to develop a DVD of Awakening the Dreamer.
During this time, Pachamama Alliance updated its mission statement to recognize and acknowledge the critical role that the work in the Amazon with Indigenous people plays in informing and shaping the Symposium and all of Pachamama Alliance's educational programs:
"To empower Indigenous people of the Amazon rainforest to preserve their lands and culture and, using insights gained from that work, to educate and inspire individuals everywhere to bring forth a thriving, just and sustainable world."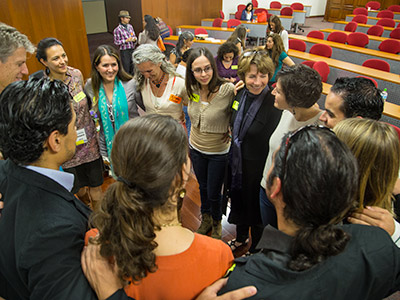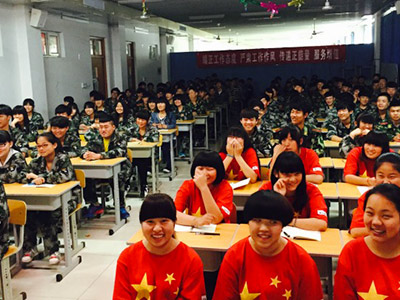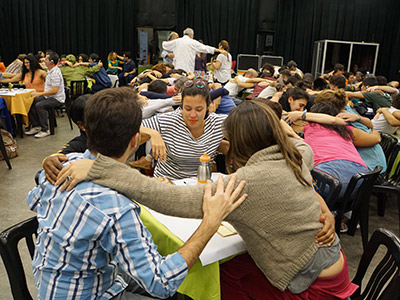 In order: Symposium in Mexico, Symposium in a high school in China, Symposium in Brazil.
Awakened People in Action
The Awakening the Dreamer Symposium flourished as Pachamama Alliance's sole educational offering both in the U.S. and globally. However, it was difficult for many participants who had completed the Symposium to stay "awake" and to work effectively for transformative change without a continuing structure of support available to them. Pachamama Alliance's response came in 2013 with the Up to Us engagement pathway and a brand new online course, the Game Changer Intensive.
The Up to Us engagement pathway is a series of transformational programs designed to educate, inspire and engage a critical mass of pro-activist leaders who are committed to bringing forth a thriving, just, and sustainable world for all. The programs of the Up to Us engagement pathway wake people to the most critical issues of our times, pierce through the apathy and resignation, inspire a new vision for the world, and engage people in innovative game-changing actions.
The first step on the Up to Us engagement pathway is Awakening the Dreamer. At the 10-year anniversary of the Symposium in 2015, Awakening the Dreamer also became available as an online course so that it could become available to anyone with access to the Internet.
Picking up where Awakening the Dreamer leaves off, the Game Changer Intensive is an interactive online course that educates and inspires personal transformation, and equips participants to collectively engage with planetary transformation. The 7-week course has as its premise that "the game is rigged," and it addresses the systems and structures that hold inequality, injustice, and alienation in place.
The Up to Us engagement pathway includes other programs such as Communities, which are local groups of people who support one another in staying awake, furthering their education, and taking skillful collective action.
Then there are Game Changing Movements, partnerships with organizations that use grassroots strategies to tackle our most critical challenges: building true democracy and addressing climate change.
And finally, there is Pass it On, a worldwide network of volunteers trained and supported to expand participation in the Up to Us engagement pathway.
In the coming decades, Pachamama Alliance's work will continue to be two-fold and will require us to expand our role as an alliance, working with other organizations, movements, and initiatives that reflect this mission.
IT'S UP TO ALL OF US
THE THIRD DECADE AND BEYOND
Pachamama Alliance is an alliance not only with the Indigenous people of the Amazon and conscious committed people in the modern world, we're also an alliance with other organizations and movements and initiatives that are bringing a new story into being about who we are as a species.
In the coming decades, Pachamama Alliance's work will continue to be two-fold: protecting the source—the south-central Ecuadorian Amazon; and inspiring the future—shifting the human future toward environmental sustainability, spiritual fulfillment, and social justice. Both of these goals require us to continue and expand our role as an alliance, working with other organizations, movements, and initiatives that reflect this mission.
Permanent Protection for the South-central Ecuadorian Amazon
After 20 years, the region of the Ecuadorian Amazon where Pachamama Alliance began is still pristine and road-less but oil exploitation is still a threat to portions of this precious ecosystem. Pachamama Alliance continues to work in partnership with the Indigenous people of the area to protect these nearly 8 million acres of tropical rainforest.
When that first group of travelers visited the Ecuadorian Amazon in 1995, they had no idea how important that region was. Now it seems to be no accident that they were called there. As we have come to learn, this area contains some of the highest concentrations of biodiversity on the entire planet. It is an area of immense ecological significance. Pachamama Alliance is committed that this area be placed into permanent protection. Achieving that goal will be one of Pachamama Alliance's primary objectives in the coming decade.
Educating and Inspiring Leaders for a New Future
We at Pachamama Alliance are still focused on waking people up to a new dream for humanity. Through the programs of the Up to Us engagement pathway, we now also aim to illuminate the systems and structures of society that hold the old dream in place and provide avenues for people to participate in "changing the game."
This focus represents an expansion of our past work, which was primarily oriented toward individual consciousness raising or transformation. Now, our educational programs include encouraging people to be involved in collective action that gets to root causes of our greatest challenges. Specifically, we see the corruption of democracy by monied interests to be at the heart of the many problems that beset society. Because our governing structures in the U.S. are not responsive to the will of the people, action on a wide array of critical issues, including climate change—the greatest existential threat of our time—is stymied by special interests.
Since 2013, Pachamama Alliance has been actively partnering with grassroots movements offering political solutions:
Move to Amend aims to pass a constitutional amendment to get big money out of politics and end the fictitious legal concept of "corporate personhood."
Citizens Climate Lobby promotes legislation to enact a carbon fee and dividend system—a form of carbon tax fully refunded to the people—that will help to phase out fossil fuels and pave the way for clean energy alternatives.
Community Environmental Legal Defense Fund works to build democracy at the local level by helping local communities assert their right to self governance and to formally recognize legal rights of nature.
Pachamama Alliance will continue to seek organizational partners that empower participants to take positive actions that can produce game changing results.
A volunteer group called the Business Engagement Team is adapting the Symposium and the Game Changer Intensive for business environments, looking to awaken the next generation of business professionals and inspire business to a leading role in creating a sustainable, fulfilling, and just human presence on this planet.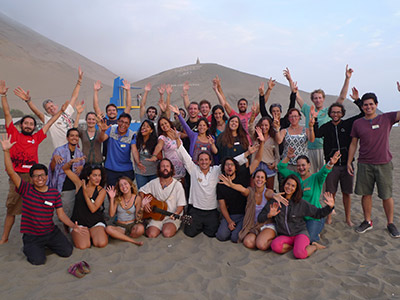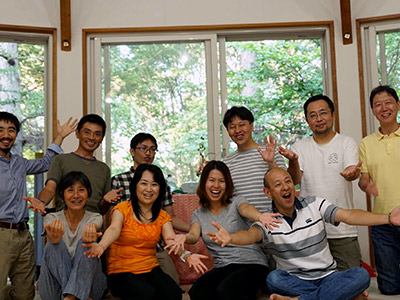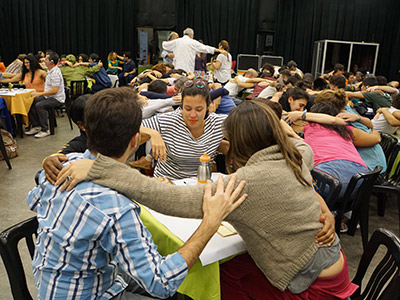 In order: Pachamama Alliance Communities in Peru, Japan, and Rochester, New York, USA.
Working as a Global Community
Pachamama Alliance also now directs constituents toward participation in our growing network of local Pachamama Alliance Communities. These community groups are providing a powerful opportunity for people to come together—to connect, explore, and engage in action on issues of local, national, and global concern. Community groups provide continuing education and deepening connections and give participants a sense of purpose and long-term communal support. In the coming decade, we aim to have local Pachamama Alliance Communities established in every major population area in the U.S.
Pachamama Alliance is making a major effort to expand the programs of the Up to Us engagement pathway internationally. Currently, there are active communities in Mexico, Central and South America, Japan, Australia, China, and Europe. Awakening the Dreamer and the Game Changer Intensive are being translated into a number of languages.
The coming decade will undoubtedly be a turning point for humanity. The choices we humans make will impact the evolution of all life on the planet. Pachamama Alliance aims to be a powerful presence in the world, offering a vision of a future that is sustainable, just, and fulfilling for all humans and preserves the blessings of nature for all beings. We firmly believe that humanity possesses the resources and solutions to solve our global crises. Our work is to galvanize and mobilize the actions that we can and must take to replace the old story of separation and competition with a new story of interconnection, cooperation, and love. Our mission is to foster and establish what ecotheologian Thomas Berry calls "a mutually-enhancing human-Earth relationship." This is the great work of our time.