FUNDACIÓN PACHAMAMA
Strengthening Indigenous Organizations
Fundación Pachamama works to strengthen the self-determination and governance processes of Indigenous peoples and nationalities.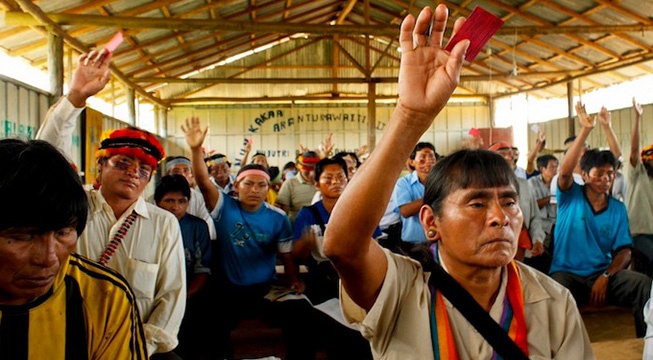 Strategies
Offering support for the decision-making processes of Indigenous peoples
Developing studies, research, and media about Indigenous collective rights, rights for nature, and alternatives to extractive industries in the Amazon region
Providing monthly funding for Indigenous organizations' operations and logistics
Building Structures for Indigenous Advocacy
Of all the work we do with our Indigenous partners, among the most fundamental and effective is supporting the federations representing the Indigenous nationalities of the Amazon basin. Our role is not to influence or direct the federations, but to support their alliances, networks, and efforts to gain self-determination and autonomy for the Indigenous nations they represent.
Federations for Indigenous nationalities provide a foundation for effective political, economic, and social advocacy by Indigenous communities, consolidating their efforts into a powerful force defending all of the living communities of the region.
Strengthening Cross-Border and Local Alliances
Though the Amazon's Indigenous peoples have their own ancestral governance structures, the realities of defending their territories and cultures from development for extractive industry require strategic use of governance structures and protocols to ensure recognition of collective rights in modern legal and political systems.
It provides training for local, national, and regional federations to empower them to make legitimate decisions, including:
Logistical support for meetings, congresses, and assemblies
Accounting and budgeting
Planning and management
Intercultural education
Alternative economic opportunities
Public awareness of collective rights
Support Our Work
Your donation protects the Amazon and contributes to a thriving, just, and sustainable world.
DONATE
Strategic Components and Programs